The ADVISOR Newsletter
SUBSCRIBE  |  ARCHIVED NEWSLETTERS  |  SHARE YOUR NEWS AND EVENTS WITH US
NOTE:  We have recently changed from a MONTHLY newsletter to a QUARTERLY newsletter.
Anyone may sign-up to receive our quarterly ADVISOR newsletter by clicking here!

Once you are signed up, we'll be emailing you quarterly newsletters  that contain transfer news, updates, events, resources, and spotlights on transfer students and transfer champions from across higher education in Alabama.  Since the newsletter is now quarterly, we plan to send a newsletter out out every 3 months on the following schedule:
WINTER - January
SPRING - April
SUMMER - July
FALL - October
You can view our newsletter archive by clicking here or by clicking on the latest newsletter image below: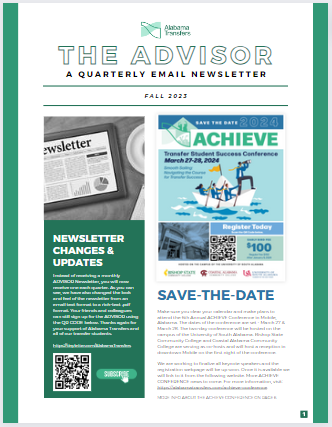 YOU CAN HELP WITH NEWSLETTER CONTENT!  We are looking for people to submit stories related to transfer, student success, advisor tips, higher education conferences, etc.  If you have something you would like to share, please let us know by filling out this online form.